>
>
Dr Amar Ahmed
Meet our Research Faculty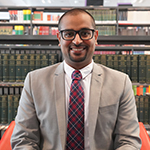 Dr Amar Ahmed
Post Doc
Marketing, Management, Communication and Media (MMCM)
Sorbonne University Abu Dhabi
amar.ahmed@sorbonne.ae

Research Interests
Dr Ahmed has previously published in the fields of advertising and branding. His current work and research interests are within the sphere of consumer behaviour as he addresses the role of consumption in constructing identities, sociocultural consumption, and consumer culture. He aims to contribute to the sub-field of the Consumer Culture Theory (CCT) through empirical qualitative research.
PhD in
Sociology of Culture (University of Ljubljana, Slovenia)
Research Collaborations
Dr Ahmed participated-in and attended tens of conferences, seminars, and trainings in Europe and the Middle East. He was a guest speaker at the University of Ljubljana (Slovenia) multiple times and presented a paper at the Inter-University Centre Dubrovnik (Croatia). Additionally, he is an external expert for Rajamangala University of Technology Krungthep (Thailand).
Publications
Journal Articles
2020: Poligrafi, 25(99/100), pp.117-143. "Consuming Eid Al-Adha: Constructing and Expressing the Muslim Identity."
2020: International Journal of Social and Administrative Sciences, 5(2), pp.143-155. "Consumer Behaviour as a Way to Studying Sociology of Culture."
2016: International Journal of Business and Statistical Analysis, 3(02), pp.55-60. "Issues in the Branding and Advertising Strategies."
Affiliations
Sorbonne University Abu Dhabi
Consumer Culture Theory Consortium
Affiliations
His current main responsibility is to research and develop a new executive programme within SUAD. Moreover, he has in-depth experience in securing scholarships and funding in both the Middle East and Europe. Prior to working in academia, he has several years experiences working in corporate settings, doing volunteer works, and conducting training and seminars.