Seminar – Archives and Climate Change
Date

:
Thursday 27 April 2023

Time

:
5:00 pm – 7:00 pm

Venue

:
Richelieu Amphitheatre, Sorbonne University Abu Dhabi Campus
Register for the sixth session of the seminar series in Records Management & Archival Sciences titled Archives and Climate Change
Abstract
Climate change has become topical over the past few years and manifests itself in many ways, including rising sea levels and severe weather conditions among others. Scientists, researchers, meteorologists, farmers, and many other stakeholders are relying on historical data contained in archives to understand climate trends across the globe. Although there is scantly literature on the contribution of archives to research on climate change, the dependance on archives to understand our histories and predict the future is well acknowledged. The focus of this seminar is to cultivate discussions on how archives support activities against meant to combat climate change.
About the speakers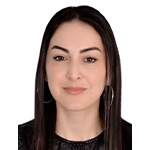 Dr.Seyda Tilevis an assistant professor of Meteorology and the head of the Meteorology Department at Abu Dhabi Polytechnic, Institute of Applied Technology. She has received her BSc. degree in Meteorological Engineering, MSc degree in Satellite Communication and Remote sensing, and PhD degree in Atmospheric Sciences from Istanbul Technical University. She conducted her PhD research at The University of Manchester, School of Earth and Environmental Sciences with a scholarship. She has 15+ years of professional and administrative experience in the field of meteorological education and research. She has taught several atmospheric sciences courses such as Climatology, Environmental Issues, Numerical Weather Prediction, Aviation, Climate Change; became a part of many funded research projects with roles from research assistant to lead investigator; published many peer-reviewed journal articles, book chapters, and proceedings; her h-index is 6 with 132 citations.
She has experience in Linux, Windows Operating Systems, WRF, WRFDA, Hysplit, WAsP, PRECIS Models, programming with Fortran, Bash-Scripting, NCL, html, visualization programs such as RIP, NCL, GrADS, IDV, ArcGIS and many other scientific tools.

Kindly note that this event will be photographed and videographed
Please fill-in the registration form below to confirm your participation on campus
Bookings are closed for this event.